Legal Case Management
---
Jaah Case Management Program
the best program for managing all cases and keeping their files.
It is part of Jaah Law Firm's integrated system to manage all aspects of your legal business, including:
legal case management, legal consultation management, financial management, human resource management and more...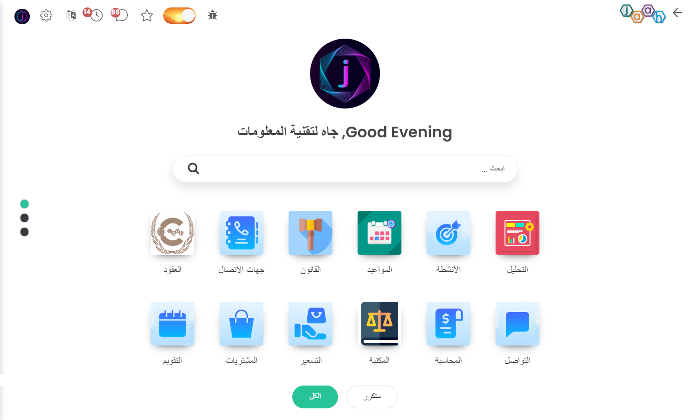 ​​​​

Case's
Create and open a new case of clients' requests or consulting requests, and upload and archive related documents.
​

Case Type
Choose the type of case according to the classification of cases in your country supported in the system.
​

Assigning
Assigning the case to a specialized lawyer and adding all the necessary information in the course of work on the the case and following it up in all its parts.
​

Courts
Choosing the court and the legal department of the case with the possibility of determining the method of payment and creating invoices within the case.
​

Evidence
Create and add evidence related to each case with its full details (description of the evidence, in favor of whom, attachments,...etc.).
​

Court Sessions (Trails)
Create trials by adding all the information related to them and their details, scheduling them for the lawyer, and informing the client of them.
​

Judgments
Recording the judgments issued by the session with all its details (the judgment number, the judgment text, the judgment deed, the status, and the outcome of the judgment) and uploading the judgment document and archiving it in the system.